WAVRE, Belgium — 25 May 2022: iSTAR Medical, a medtech company delivering breakthrough eye care solutions to patients, today announced it will be present at this year's European Glaucoma Society (EGS) Congress taking place in Athens, Greece from 4-8 June 2022.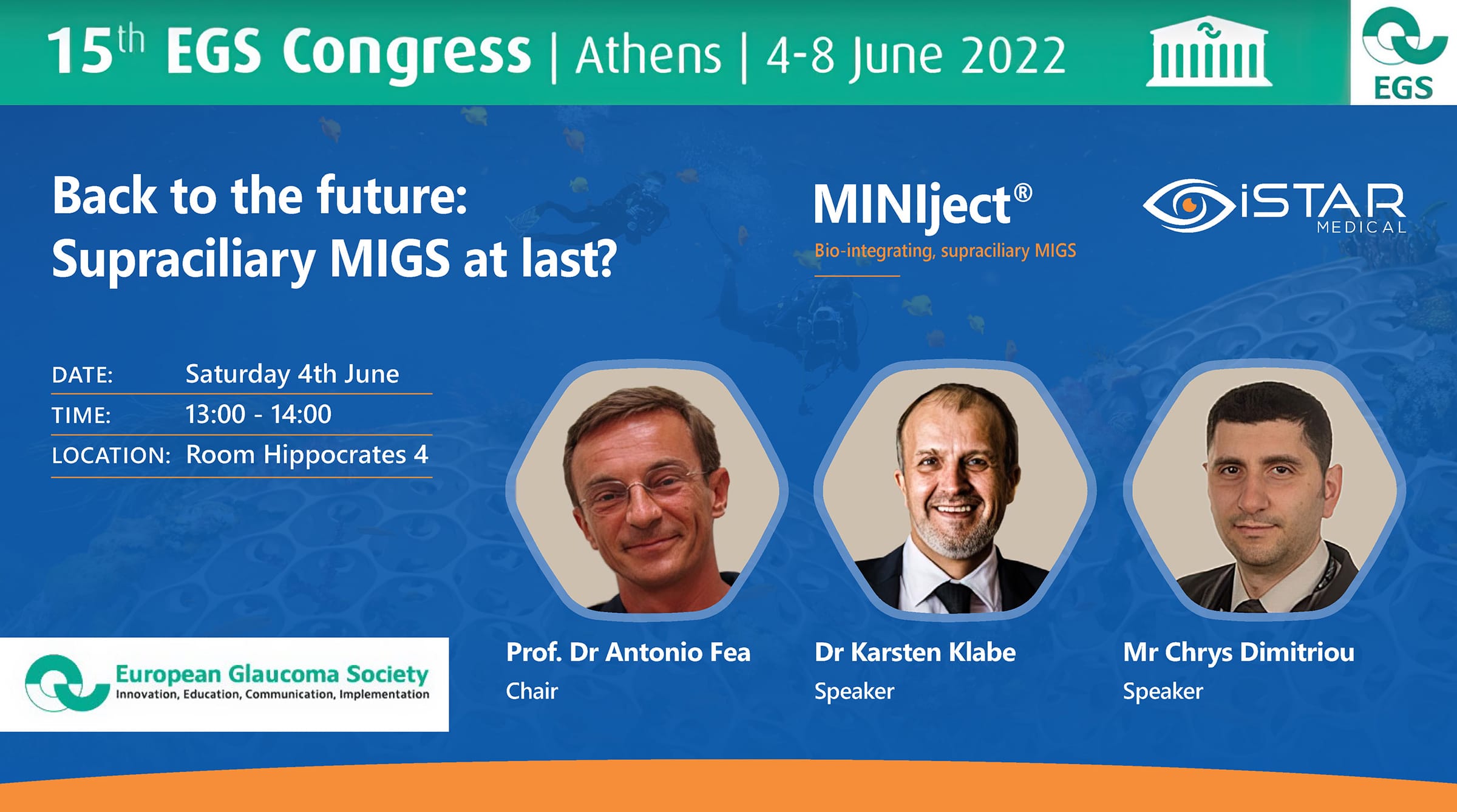 iSTAR Medical will be sponsoring an educational symposium entitled, 'Back to the Future: Supraciliary MIGS at last' on Saturday 4 June from 13:00-14:00 EEST in Room Hippocrates 4, which will be chaired by Prof. Dr. Antonio Fea (Università degli Studi di Torino, Italy) and feature speakers, Dr. med. Karsten Klabe (Breyer, Kaymak & Klabe Augenchirurgie, Düsseldorf, Germany), and Mr Chrys Dimitriou (The Colchester Eye Centre of Excellence, Colchester, UK). A meta-analysis from the STAR-I, STAR-II and STAR-III trials at 2 years, as well as real-world MINIject® cases will be presented for the first time at the symposium.
Additionally, two-year results for MINIject®, the only commercially available supraciliary MIGS device, will be presented in two poster sessions as follows:
Two-year Results from a European Study of a Supraciliary Glaucoma Drainage Device in Patients with Open Angle Glaucoma
Date: 6 June 2022
Time: 10:40-11:10 EEST
Presenter: Prof. Dr Philippe Denis (Hôpital de la Croix-Rousse, Lyon, France)
Two-year Safety and Efficacy Results of a Supraciliary Drainage Device in Patients with Open Angle Glaucoma – a Meta-Analysis from STAR-I, STAR-II and STAR-III trials
Date: 7 June 2022
Time: 16:45-17:15 EEST
Presenter: Prof. Dr Antonio Fea
iSTAR Medical will be exhibiting onsite throughout the conference at booth #46-47, at the entrance to the main lecture theatre.
The EGS Congress is held every two years and gathers over 2500 glaucoma care providers including glaucoma specialists and surgeons, general ophthalmologists, optometrists, researchers, nurses, technicians, leaders of glaucoma patient organizations and industry to discuss the latest clinical data and developments in glaucoma diagnosis and treatment.
About iSTAR Medical
iSTAR Medical is committed to delivering breakthrough eye care solutions. Our most advanced product, MINIject®, is approved in Europe for the treatment of open-angle glaucoma – the leading cause of irreversible blindness – and we are aiming to seek market approval in the US. We believe MINIject®'s distinctive tissue-integrating capabilities unlock a safer, and more effective option for patients. We are building an exceptional team and pipeline of potentially leading products such as MINIject® to establish new treatment paradigms in eye care conditions with the highest patient needs. For more information, please visit: www.istar-medical.com
About MINIject®
MINIject® is iSTAR Medical's innovative MIGS device for patients with primary open-angle glaucoma. MINIject® combines the distinctive porous structure of its proprietary STAR material with the power offered by the supraciliary space. As a result, it is designed to enhance natural fluid outflow, reducing intraocular pressure (IOP) and the need for medication, while bio-integrating with surrounding tissue, limiting inflammation, fibrosis and subsequent complications.
About Glaucoma
Glaucoma is a progressive disease affecting over 100 million people globally, of which primary open-angle glaucoma is the most common form.[1][2] IOP reduction, through medication or surgery, helps delay disease progression.[1] Medication is generally the first line treatment, but the progressive addition of multiple drops can burden patients with side effects, compliance challenges and costs.[1][3] Invasive surgery can present risks with irreversible complications and often requires long-term patient management.[1][3] MIGS is the most promising and fastest-growing glaucoma therapy due to its enhanced safety profile.[1] We believe MINIject® may become a leading MIGS device with its promising long-term efficacy and safety.
[1] Market Scope, "2021 Glaucoma Surgical Device Market Report", July 2021. https://www.market-scope.com/pages/reports/267/2021-glaucoma-surgical-device-market-report
[2] Jonas JB, Aung T, Bourne RR et al. "Glaucoma". Lancet 2017; 390: 2083–93
[3] "European Glaucoma Society Terminology and Guidelines for Glaucoma", 4th Edition: British Journal of Ophthalmology. 2017;101:1-195 https://bjo.bmj.com/content/101/5/73