As we enter a new year, iSTAR Medical's CEO Michel Vanbrabant reflects on 2021 and the progress iSTAR Medical has made in the development of its innovative minimally invasive implant, MINIject®, for people affected by glaucoma.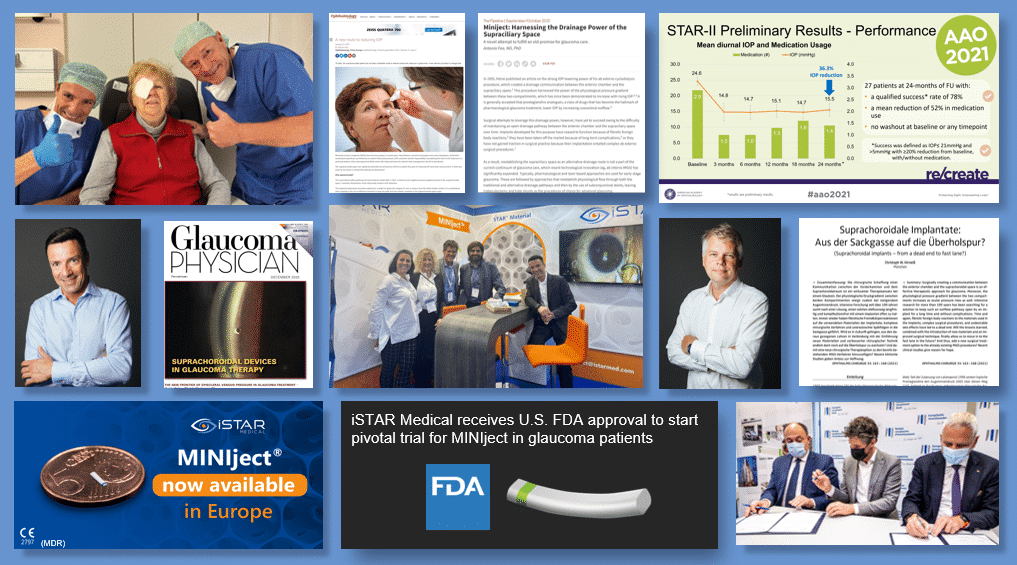 I am extremely proud of the significant progress we made at iSTAR Medical in 2021 towards our goal of establishing iSTAR Medical as a leader in minimally-invasive glaucoma surgery (MIGS) implants, with the continued clinical and now commercial development of our first product, MINIject, to improve the lives of people affected by glaucoma.
In November, we were delighted to announce that MINIject was approved in Europe for the treatment of open-angle glaucoma. With this approval, MINIject became the only commercially available MIGS device targeting the supraciliary space as a natural outflow pathway associated with meaningful IOP reduction. This is a major milestone for iSTAR Medical and our mission to bring truly next-generation MIGS devices to the glaucoma community. We are now entering a crucial phase of our international development as we commercially roll out MINIject in select regions across Europe with first commercial implantations having already taken place in Germany, with other European countries soon to follow.
A key strength of MINIject, and an essential component of the success of any MIGS device, is its ability to demonstrate efficacy and safety in patients. In July, we saw promising preliminary, interim three-year data on MINIject from the STAR-I trial showing strong performance and no endothelial cell density (ECD) safety concerns, confirming the positive trend presented previously.
High quality science is at the heart of everything we do, and we are committed to engaging and sharing our progress with the scientific community. Several articles on our pioneering technology have been published in journals, including Glaucoma Physician, Ophthalmo-Chirurgie, Glaucoma Today and Ophthalmology Times Europe, by physicians including Dr Steven Vold, Prof. Dr Christoph Hirneiss, and Prof. Dr Antonio Fea.
Although the impact of the pandemic kept its hold over some in-person events, we have still been able to participate in numerous international and national conferences both virtually and in-person. I am pleased with several presentations by key opinion leaders (KOLs) on the final results from our STAR-II trial and the three-year results from the STAR-I trial delivered at the World Glaucoma Congress (WGC) 2021, the 39th edition of the European Society of Cataract and Refractive Surgeons (ESCRS) annual meeting and the 12th American Academy of Ophthalmology (AAO) meeting.
Over the course of the year, we passed several significant milestones. During the summer, the U.S. Food and Drug Administration (FDA) granted us an Investigational Device Exemption (IDE) to begin a pivotal trial with MINIject. This allowed us to commence our U.S. focused STAR-V study. STAR-V offers us the opportunity to replicate the efficacy and safety demonstrated by MINIject in previous trials in more than 350 additional patients suffering from primary open-angle glaucoma, with world-leading glaucoma surgeons in the US, Canada and Europe.
Today we announced positive progress from STAR-V with initial positive feedback received from the implantation surgeons involved. The results of this study will be instrumental to gain regulatory approval and commercial access for MINIject in the US market and we look forward to sharing our continued progress in 2022 with you.
In June, we welcomed Paul van Hagen as Chief Financial Officer (CFO) to the team, who brings over 20 years of experience in finance with the last 10 years in life science companies. It has been wonderful working closely alongside Paul and he is a welcome addition to the team. In February, David Stocker, MD joined as VP Sales & Marketing. David has over 20 years of experience building and scaling up early-stage medical businesses both in post-acquisition large corporations and in start-up greenfield environments. David has been pivotal in building our market introduction strategy and our commercial force in 2021. As we continue into 2022, we expect to further build our team in the US, Europe and beyond.
Exciting commercial and clinical events aside, I am also pleased to report that we secured a €20 million quasi-equity financing agreement with the European Investment Bank (EIB) late last year, providing us with the flexibility to support our R&D and Product Development activities, specifically in further clinical trials, regulatory matters and commercialization.
To close, I would like to thank our talented team who continue to work with such commitment and enthusiasm to develop innovative ophthalmic implants that have the potential to substantially impact the lives of people affected by glaucoma. To have accomplished all that we have over the last year, especially against the continuing backdrop of the COVID-19 pandemic, is a fantastic achievement and serves as a testament to their continued dedication. I would also like to extend my thanks to you and everyone who has continued to support iSTAR Medical with our mission. I am confident that 2022 will be another pivotal year for us and the glaucoma community at large.
Wishing you all a very happy, healthy and prosperous New Year.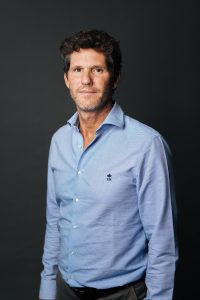 Michel Vanbrabant
CEO